Current School News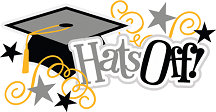 Valedictorian & Salutatorian
Class of 2019
 Lisbon Community Consolidated Grade School is proud to announce the Valedictorian and Salutatorian for the 2018-2019 school year.  Valedictorian has been awarded to Breannyn Dixon.  She achieved a perfect 4.00 GPA during her time at LGS.  Salutatorian has been awarded to Tayton Hardecopf.  She attained a cumulative GPA of 3.95.  Congratulations to both award winners.  We are proud of your hard work and dedication!
You can still shop the Book Fair! The website will be open until Friday, March 22nd. Check out the link below.
Bus Driver Needed
Interested in driving a school bus? Stop in or call the school at 815-736-6324. This is great extra income for a stay at home parent, retired individual or grandparent.
2018 - 2019 Updated Calendar including
LISBON LIONS TRACK SCHEDULE 2019.pdf